Vale Jim Richardson
August 09, 2023

Szilvia Berky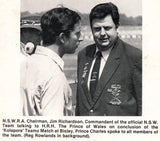 It is with sadness that we advise the passing of one of our finest Statesmen & Administrators, Jim Richardson.
Jim served our sport with dignity & professionalism throughout his life & set a standard that is hard to surpass. He was a Life member of the Cessnock Rifle Club as well as Captain & Committee Member & held the position of President of the Hunter Valley Rifle Association for over 20 years.                                    Jim's talent in Banking & Management directed his focus to administration within our shooting sport and saw him elected onto the Council of the New South Wales Rifle Association. During this period of service he held the positions of Treasurer, Deputy Chairman and became the Chairman from 1982 to 1986 following on from Graeme Berman, Jim was the youngest Chairman to ever be appointed to this important position.
After serving NSWRA with distinction Jim was elected to the Board of the National Rifle Association of Australia where he again served in the capacity of Chairman.
Jim attended Bisley on several occasions with both NSWRA & NRAA teams in a management capacity, due to these visits & relationships created, he was awarded a Vice Presidency of the National Rifle Association of Great Britain, testimony to the high esteem in which he was held by all who knew him and experienced his expertise & friendship.
Jim will be sadly missed, we extend our sympathies to his family and friends.